Thanksgiving Back 2020
ThanksGiving Back has historically been an event where we come together as a church family, share a Thanksgiving meal (sometimes with a cook-off competition!) and collect a special offering to fund our Benevolence Ministry to GIVE BACK what we have received from the Lord.
Our Benevolence Ministry exists to financially and spiritually help those in our church family and in our community who have come on hard times.
THIS YEAR
We're changing things up to comply with policy regulations for your safety! This year we have expanded the season of gratitude with opportunities to give generously. With THANKS we are GIVING BACK. Similar to how the Great Adventure drive thru happened this summer, we've planned a weekly drive thru event for November that benefits our local community through HCBCPF's Compassion Ministries!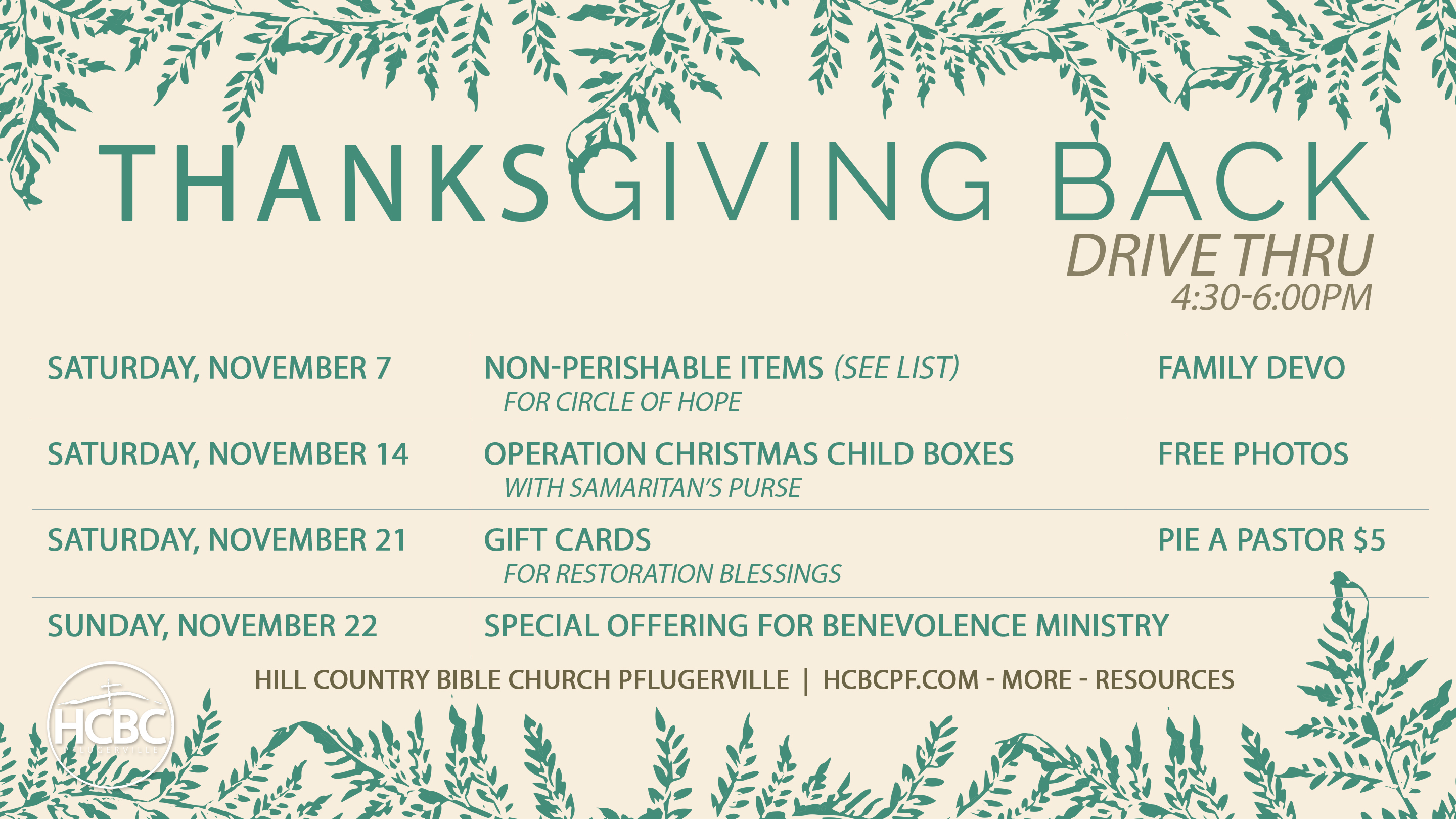 DRIVE THRU DONATIONS
Bring your family to Hill Country Bible Church Pflugerville with the donation for each week on Saturdays in November between 4:30PM - 6:00PM.
Drive Thru and donate to support our Compassion Ministries. (Donations may also be brought on Sundays.)
GIFT / ACTIVITIES EACH WEEK
Receive different gifts each week that you donate.

On 11/7 we'll have a family devotional and glow sticks!
On 11/14 there will be a photo booth set up with our staff photographer who will provide free family pictures. (This can be any group of people with whom you'd like a picture. It doesn't have to be families only.)
On 11/21 a $5 donation will allow you to throw a pie in the face of our pastors! (All donations go to the Benevolence Ministry.)

Pray about what God may have you donate on Sunday, 11/22 to our Benevolence Ministry! Donations can be made at any time.